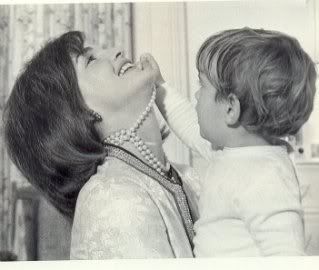 The one who shows up to the 8:00 a.m. PTA meeting in a cardigan and pearls, looking like a million bucks while the rest of the moms are fresh from the shower, wet hair and all, sporting their favorite, over-sized Disneyland sweatshirt?

You know, that girl. The one who also never says no to anything, whether it's last minute babysitting, making dinner for a neighbor who just had surgery, or agreeing to head up teacher appreciation week?

And the one who has double (okay, and in my case triple) the number of kids you do, but is always on time and pulled together when you are not? The one who looks amazing, whether it's 7:00 a.m. or 10:00 p.m.? The one whose house is spotless and always has amazing smells coming from the kitchen (because she's making 200 cupcakes for the Children's Hospital Bake Sale, no doubt).
You know, HER?
I sort of want to hate her.
But I can't.
More than I want to hate her,
I sort of want to BE her.
Seriously.
We tend to vilify girls like her, but do we just do that because we know that "being her" is way more work than "being jealous and resentful of her?" (Answer: Probably.) Even though my human nature-y self wants to make fun of her and call her a Stepford Wifey, and even though I'd really like to think that she is just really, really fake, and really, really convincing... part of me knows the truth.
And the truth is.
SHE ACTUALLY "GETS" IT.
She knows what it truly means to be a woman and a mother.
She is dedicated to being an effective, organized nurturer and homemaker.
And I DON'T "get" it...
But I want to.
And I'm thinking that there must (simply must!) be something to the whole, "Not staying in my bathrobe and thrashed house slippers all the live-long day" way of life. Maybe if I wasn't in my bathrobe... I would take out the trash...and tidy up my front yard, and not feel like an idiot when someone knocks on my door...and maybe I would even go get groceries so we could have a decent dinner later that night...and mayhaps (if I got really productive) I would return the library books, and not be late for every appointment under the sun!
(Hey, it could happen!)
That is why I have selected:
1.
Fully dressed (like, to the nines baby!) first thing in the morning, and
2.
60 minutes of cleaning each day as the goals for Week ONE!
I will give regular updates and tidbits of inspiration that I find along the way, every day this week. Stay tuned!

QUESTION:
Do you get up and get dressed every morning?
If not EVERY morning, how often (as in, how many days a week) do you get ready first thing?
Just wondering how "out there" I am compared to the rest of the mommy world.
I get dressed for the day about once every 10 days... and that's only when I have somewhere to go. (Oh wow, my poor husband...)
What about you?
*JUST SO YOU KNOW: I am pretty sure that Jackie O wasn't an expert homemaker... I suspect she left all that to the nannies, the cooks, and housekeepers, and such. But MAN could the woman dress! Whew! I think everyone should take a page (or thirty) from the Jackie book of style. The world would be a much prettier place.