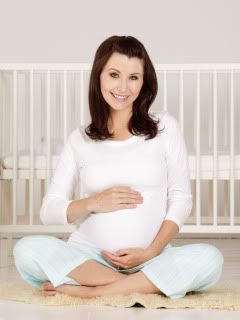 Growing up, I never really paid attention.
I didn't watch how my mom operated in the kitchen (nor, did I offer to be of assistance..thoughtful lil' miss that I was...). I didn't cook family meals. I cleaned, but not well, and only
so I could get my allowance and buy two dollars worth of swedish fish and other scrumptious penny candies at the local drug store every Saturday morning.
My days were spent dancing, acting, studying, playing, reading, and bossing around any unsuspecting little friend I could pin down for an afternoon. The whole "domestic" thing never really appealed to me.
My attempts at painting and knitting crafts were sad, and the end results were pretty much unrecognizable. I even gave my 4-H sewing instructor a complete meltdown when, for the first time in her 10 years as a teacher, she could not (for. the. life. of. her.) teach one of her students (ahem, me) to sew a
square
bag.
My college years were spent studying my brains out and dating a whole slew of guys (all of whom I feel very sorry for, in retrospect ;). I insisted, in no uncertain terms, that I was

not

going to be "some demure, subservient housewife who waited on him hand and foot!" In my (humble) opinion, I had brains, and talents, and p.l.e.n.t.y. to offer the world at large, and I was not going to waste "all that" by resigning myself to a life stuck at home vacuuming in a skirt and wiping snot-noses. (Yeah, I was a real peach back then.)
Enter the hubs.

I fell. Hard. Gosh I loved him. I tried to hold on to my previous notions, but, if I'm being honest, I just wanted to take care of him. I wanted to cook for him, keep a beautiful home for him, give him foot rubs when he got home from work and talk about his day... (Okay, I got a little carried away there at the end, but you get the idea.)
Maybe it was because he was so respectful, and doting, and kind. Maybe it was because he was so low-maintenance that it made me feel like making him happy was actually an attainable goal. Whatever the reason, I wanted to be his wife. And everything else seemed secondary.
We were married on April 20, 2001 and moved into a tiny, one-bedroom apartment in a 100 year olf home in Provo. My early attempts at home-cooked meals ended in disaster, with nasty food on the table, and a sweet hubs choking it down with a smile. Then there were the times when it was altogether inedible and the hubs had to make a 9:00 p.m. Taco Bell run so we didn't go to bed hungry. Oh, and let's not forget all those nights when I got home late from work and didn't bother making anything at all.
After several failed, miserable attempts at some semblance of domesticity, I conceded. I was no cook, and that was that. We started eating out full time.
Enter a new baby.

Kort turned our lives upside down. (In the best way possible.) Suddenly, the girl who scoffed at scrap-booking and all things crafty, (ahem, me again) had filled 6 HUGE scrapbooks with baby pictures before the little guy had even turned one. Becoming a mother sparked something in me that had been dormant all my life. Creativity. The next several years were filled with projects, diapers, and a home that ran like a well-oiled machine. Life was bliss. Then...
Enter Infertility.

When Kort was 18 months old, we started talking baby number two. Then we started trying for baby number two. Three months into "trying for two" I got the sinking feeling that something was very wrong. As it turns out, I was right.
Enter years of devastating disappointment. Yeah, it was that bad. I managed to function pretty well up until Kort was about four... then, the hopelessness of it all set in (and BOY did it set in). Part of me wanted to pick myself up, dust myself off, and move on... but I couldn't. Part of me wanted to re-dedicate myself to being the best wife and mom the world had ever seen, but after a few successful days, I just fell back into blog-stalking all the live long day with an occasional nod to housework of any kind.
It's a funny (and completely flawed) outlook, but I started feeling like dinner wasn't worth making - if it was just for the three of us. The house didn't get very dirty - because it was just the three of us. It was impossible to talk myself into a cleaning routine because our lifestyle didn't call for it, but without a routine, the household fell apart. I found myself in a tricky middle area where I was a mother, but it didn't warrant a full time job.
Enter Pregnancy!

That's right. 7 years after the birth of our first son, we welcomed a second. He has been the greatest, most spectacular, and completely unexpected joy since we gave birth to Kort. Life is so good. My desire to be a great mom and homemaker is back, and...
I have no idea what I'm doing!
I read and execute recipes incorrectly, I set my kitchen on fire (at least once every six months), I forget to do laundry until we have nothing to wear, I literally live in my bathrobe (which gets a little bit awkward when my cute, "pulled together" neighbors drop by), I'm not gonna lie - I'm a mess! This lifestyle worked okay when I was the mother of an independent 7 year old and the wife of the most easy-going man on the planet, but this is NOT going to work now that my baby-maker is up and running. I want a whole pile of babies, but I've got to figure out how to care for them first!
There are so many blogs out there that are written by brilliant women who are cooks and crafters and homemakers extraordinaire... this is not one of them.
But maybe someday, it will be.