"Broken Window" BEFORE:
and "Broken Window" AFTER: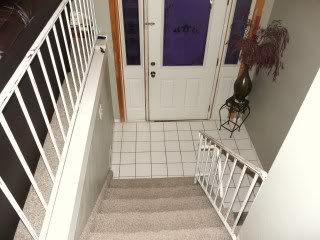 Kay, in my defense, my landing is ugly anyway (even clean) but at least when it's clean it looks like we just haven't gotten around to THAT part of our renovation...instead of looking like we are just slobs!
I am so excited to tackle one of these each day! I should also say that I committed a bit of a FlyLady no-no. She says that you will be tempted to just go nuts and start cleaning out closets like crazy, BUT YOU SHOULDN'T because then you will burn out. Well...
I sort of cleaned the
entire
landing,
half
of the coat closet, and
all
of my REALLY overstuffed dresser. But they weren't "Broken Windows" per se...they were just WAY overdue for a good cleaning. And I'm not burned out so much as I am ecstatic, so, crisis averted. HOWEVER, I fully intend to make up for the overdoing it today by UNDERdoing it tomorrow. I have a standing lunch date with a bestie who just had TRIPLETS! So, I will spend the better part of tomorrow eating pizza, visiting with one of my favorite people on earth, and loving on FOUR babies!
How did you do today?
Any Broken Windows repaired?
Is your sink shiny?