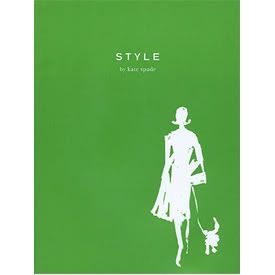 I had a happy stumbling upon a great book at my local library a few weeks ago. It is simply called "Style" by Kate Spade. The whole book is a yummy little treat, and I really like her definition of style. We have so many voices telling us what we should wear, and what we should like, and who we should aspire to be... I found Kate's take on style to be, well, refreshing. I thought that since this week's goal is to get dressed every day, it might be fun to share some of Kate's takes on Style.
Kate says:
DRESS BY YOUR OWN RULES.
STYLE IS NOT ABOUT THE RULES.
"When you are defining your own style, it's so important not to be nervous. Part of style is confidence - you need to own your sense of style and be relaxed. If you've already pulled off a simple, clean look, then you can add just one great piece: shoes or a brooch. Find something you're drawn to, something you can't stop thinking about. Enjoy it. Play. I'm a big proponent of owning pieces that you cannot wait to wear. You want to find something that speaks to you in a totally personal way."