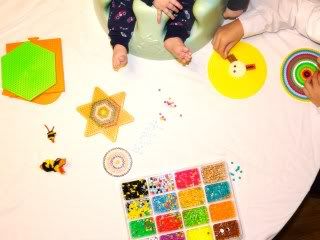 How did we do?

Tennyson got up bright and early at 6:00 am. I nursed him (which is only taking 10 minutes now because he is such a fast eater. Yay!) and immediately got dressed. (wide-leg jeans, navy/white striped shirt, long gray sweater, red earrings, and pointy red flats...which I am actually only wearing out of the house... if I even leave the house. While home, I wear comfy shoes.)
I pulled my hair into a messy bun with bangs and "fringe" framing my face. Then I put make up on. This took 10 minutes total (hair and make up.) Then Tennyson and I talked and giggled and had a diaper change, and then he pooped in his brand new diaper, so we had another diaper change, tidied up the bedroom, and finally ventured out into the kitchen.
Since Kort wasn't up distracting me yet (he is sooo cute... and soooo high maintenance), I managed to unload the entire dishwasher, wash the dishes that were left in the sink from last night, and clear off the dining room table in 15 minutes - all before 7:00! (Wow!) Kestral made a great comment saying that "An object in motion stays in motion" and BOY is that applicable here...
I had SUCH a Brady Bunch/Leave it to Beaver Morning!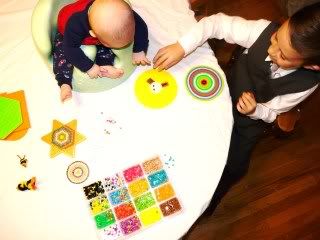 So get this:
Kort bursts in on the scene right at 7:00. (Thank you Daylight Savings Time). We usually wake him up to get ready for school at 7:30, so he had half an hour to kill. The first thing he said was: "Wow mom, you look pretty!" (Ha ha! Told you it was a rare occurrence around here!) Since he was up early, he asked if he could play with the Perler Beads we were playing with on Sunday night. I said sure. Then I wiped the kitchen clean while he worked on a new little project and even ironed it together before we had to start breakfast. My home just felt so happy and most importantly c.a.l.m! I loved it.
Once Kort was off to school, I set my timer for 15 minutes to do the second quarter of my cleaning goal. (Baby steps, right?) I was shocked at how much I got done on this set!
Here is the rundown:
Cleared dining room table
Rinsed/loaded breakfast dishes
vacuumed:
Living Room
Hallway
Tennyson's Room
Kort's Room
Master Bedroom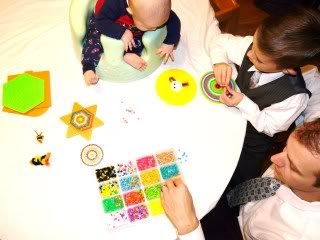 Then, Tennyson had the worst morning ever! He is usually so, so happy, but he was tired and fussy, and basically inconsolable. I'm wondering if his little bottom teeth aren't getting ready to make an appearance. (Kort's cut through right at 4 months, so with Tentens coming up on three...this may be the case.) Anyway, it was so sad! I spent the next hour and a half trying to sooth him to sleep, so we just snuggled and took it easy. Finally, around noon, he crashed. Since I only got about 5 hours of sleep last night, I went to sleep too! I slept until 1:30 and woke up feeling so great!
When Kort got home from school, he invited a friend over and it was so nice not to have to dash into my room to put something decent on! The boys played with Perler Beads (which I would iron together as they finished each project.)
The hubs got home at 5:00 and we made tacos in the kitchen together. I love him. Man, do I love him.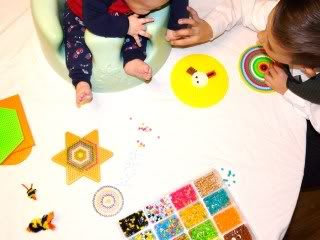 Another 15 minutes cleaning up after dinner, and my kitchen looks great! (That takes me up to 45 of my 60 minutes) I think what I love the most about doing these 15 minute increments is that it reminds me of how possible this is. It would be discouraging if my kitchen took an hour to clean... but 15 minutes? Hey! I've got 15 minutes. (Barely, but I've got it.)
For my last 15 minutes, I wiped down our main bathroom. I didn't totally scour or do the floors, but the mirror and sink are shiny and the toilet is totally clean.
The hubs is playing checkers with Kort to finish off our family night, and Tentens is sleeping in his swing. I'm going to go get my boys in bed, post communal global, and watch some t.v. with the hubs to wind down the night.


Did you try jewelry? Getting dressed?
Did you have a cleaning goal?
How did you do on your goal variations?
What did you find most rewarding?
My 2 most favorite things about today?
1. Not having to dash into my room to get dressed when Kort's friend came to play.
2. Tidying up and vacuuming my bedroom! I usually put ALL other house cleaning chores ahead of my bedroom (yes, even though Oprah, Nate, Martha, and every self-helper on the planet say not to!) because those sections of the house are seen by others. I can't believe how many times I smiled when walking into my bedroom today. It was like a happy little present, just for me.